Synergetic Automation is pioneer in India for Design and Manufacturing of Fin Mill Machine. Synergetic Fin Mill Machine produces highest provision for fin with low, medium and highest speed. Machine parts are manufactured to the precision accuracies.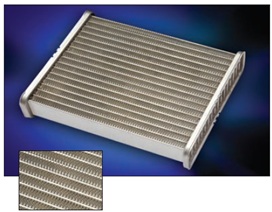 Fin Machine Specification:-
Strip Input Speed – 150 m/min
Fin Width – 12 mm to 100 mm
Fin Height – 4 mm to 12 mm
Strip Thickness – 0.05 mm to 0.16 mm
Our Fin Machine are designed and manufactured to the highest standard in the industry by our skilled technicians. The Fin Mill Machine is Simple to use, interchangeable and cost effective. Our machine is also capable to handling existing tooling irrespective of the manufacturers design.
We design and build the Fin Mill Machine to meet customer specification and assure our customer completely satisfied with their custom fin mill machine.
Excellent designed back tension and pitch control is key element of the design which ensures accurate height and pitch of the fin.
The combination of machine and tooling makes this Fin Mill Machine the best in class and an essential element for the successful integration of fully automatic production cell.